codeX Learnerships and BEE
The codeX Agile Web Developer Programme is an NQF Level 5 National Certificate, accredited with the MICT SETA, and directly supports Skills Development (SD) and Socio-Economic Development (SED) components of BBBEE.
South African companies are required to spend a specified percent of their total payroll on SD - so directly sponsoring, mentoring and employing codeX learners provides an immediate solution to most businesses. If a business needs to improve its overall score card and already has fulfilled its SD obligations, then additional expenditure (as a percentage of net profit after tax) on SED can be helpful.
Skills Development Spend
For Large Companies (above R50m turnover) and Qualifying Small Enterprises (QSE's), Skills Development is a priority element on the BEE Scorecard, counting for up to 25 points out of 100.
Skills Development Scorecard includes a specific Learnership category (offered by accredited providers) for both employees and unemployed BEE candidates, making accredited Learnerships through the CodeX Programme the most effective way to recognise BEE Skills Development points.
The reason is that with a Learnership, your company will be able to claim the training expenditure (and in some cases stipend pay to the Learner) while participating in the accredited Learnership Programme.
It's important to note that EAP (economically active population) targets are applicable to the Skills Development Scorecard. In this regard codeX is particularly well placed, having well-above industry average diversity statistics.
How does it work?
The Skills Development Scorecard measures monetary spend on black candidates as well as the number of black people who are enrolled in Learnerships and/or structured work-based learning programmes. In other words, the Skills Development Scorecard applies to hitting targets on (i) expenditure for training (compared to total payroll) and (ii) headcount (compared to total headcount) for the number of people who receive training. It is also important to note that points can be earned by training non-employed black candidates. Further note that certain sector scorecards requires training to be ICT skills training in order to count, and the codeX Programme meets this requirement.
Total Payroll
Large Companies need to spend 6% of the total payroll on training for BEE Candidates, and the requirement for QSE's is 3% of the total payroll. This earns 8 points on the BEE scorecard (A further 4 points can be earned by training Black disabled employees).
Headcount Requirement
The headcount requirement is 2.5% of your total staff, rounded up to the nearest integer - i.e. 1 person if you have up to 40 staff. A staff complement of 400 would require 10 learnerships and so on. By placing the requisite number of candidates on a Learnership, you can earn 8 points.
Bonus Points for Employment
A further 5 points can be earned if the CodeX Learners are employed at the end of their Learnership. This can be on a fix term contract or on a permanent basis. Also note that the Learner does not need to be employed by your company – if the Learner gets employment by another company, you can also get the bonus points.
Contribution Benefit Factor
Indicator
Points
Target
Skills Development Spend
Skills Development expenditure on learning programmes for black people as a percentage of payroll
8
6%
Skills Development expenditure on learning programmes for black employees with disabilities as a percentage of payroll
4
0.3%
Learnership, Apprenticeships & Internships
Number of black people participating in learnerships, apprenticeships and internships as a percentage of total number of employees
4
2.5%
Number of black unemployed people participating in training as a percentage of total number of employees
4
2.5%
Total
20
Bonus Points
Bonus points for the number of black people absorbed by the measured company or the industry at the end of the learnership, apprenticeship and internship programmes
5
100%
Total
25
Youth Employment Service
A new concept of "Youth Employment Service" (YES) companies has been created, and current proposals are being considered for enactment where participating entities can move up 1 or 2 BEE recognition levels if they meet the minimum requirements.
To qualify the entity must:
Meet the 40% sub-minimums for each priority element (ownership, skills development, preferential procurement, supplier development and enterprise development) or meet an average of 50% (if a generic company) across the 3 priority elements or an average of 0% (if a QSE) in 2 of the 3 priority elements including ownership; and
Improve its BEE score each year; and
Score full points on the Skills Development Scorecard (if a generic); and
Give 12-month full-time employment contracts (ideally suited to the codeX learnerships) to such number of Black youth (18 – 35 years) as determined by the higher of:

1.5% of last year's headcount;
1.5% of average NPAT (net profit after tax) in last 3 years converted to headcount by dividing by R55,000; or
A target set in a table based on annual revenue or headcount.
To move up 1 BEE level, the YES company must meet the target and achieve 2.5% permanent employment. To move up 2 BEE levels, the YES company must meet double the target and achieve 5% permanent employment. An additional 3 points can also be earned, in certain circumstances, which of course can mean that the company can move up another level.
SETA Rebates and Tax Incentives
Companies that implement Learnerships also qualify for rebates and incentives, including deductions as per section 12 H of the Income Tax Act as well as Youth Wage Subsidy incentives. Companies with Workplace Skills Programmes in place may also apply for Discretionary Grant Funding as well as Mandatory SETA funding.
Eg. MICT SETA provides a discretionary training grant (including stipend) of up to R 53 000 per Learner. Tax Incentives for NQF Level 5 Programmes totals R80k per Learner, deducted in two equal parts (on commencement and completion of the Programme).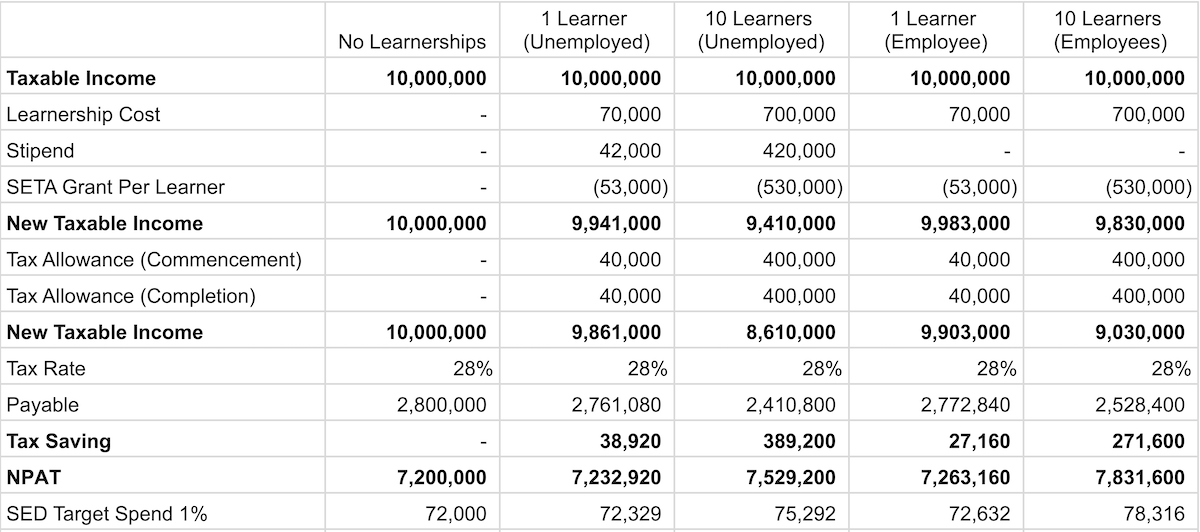 What is BEE Socio-Economic Development?
In terms of the B-BBEE Codes of Good Practice, the objective of Socio-Economic Development (SED) contributions is the promotion of sustainable access for beneficiaries to the economy.
SED contributions count are any monetary or non-monetary contribution implemented for individuals or communities, where at least 75% of the full value benefits black people.
In most sectors SED contributions qualify for up to 5 points of the BEE Scorecard, and significantly higher at 12 points in the ICT Sector, with the specific aim to address the digital divide.
Through our ground-breaking approach to training, we ensure that candidates who are under-represented in tech acquire the solid technical and practical skills required for a career in web development. 87% of codeX candidates meet the BEE criteria.
100% of Socio-Economic Development grants made to codeX are recognized for the BEE ScoreCard.

Donations via the Click Foundation codeX Bursary Fund are tax deductible (eligible for Section 18A certificates).
Contribution Benefit Factor
Qualifying contribution type
Contribution amount
Benefit Factor
Grant and related contributions
Grant contribution
Full grant amount
100%
Direct cost incurred in supporting SED, sector specific initiatives or approved SED contributions
Verifiable cost (including both monetary and non-monetary)
100%
Discounts in addition to normal business practices supporting SED, sector specific initiatives or approved SED contributions
Discount amount (in addition to normal business discount)
100%
Mentoring and professional services can also be recognised for Socio-Economic Development, with a benefit factor of 80%. Download our BEE ScoreCard Guidelines
Compliance Target for Socio-Economic Development
SED Indicator
Weighting points
Compliance Target for 2016
Sector
Points
Average annual value of all SED contributions by the Measured Entity as a percentage of Net Profit After Tax (NPAT) or turnover
ICT (Amended 2016)
12
1.5% of NPAT
Other
5
1% of NPAT
View the Amended Sector Codes

Download codeX BEE SED Documents: